Having the perfect holiday decorations can bring out the season's cheer and spirit. But once all those decorations are taken down, there's a need to store them properly so they'll last for years. Fortunately, storing your holiday decorations can be simple and inexpensive. With these simple storage hacks, you can keep your seasonal decorations organized and in top condition while not being used. Not to mention, they are easily reachable and labeled so that you won't lose anything! So say goodbye to your attic storage and hello to easy holiday storage hacks.
The most effective storage hack that will hold together all the other hacks is to use clear plastic bins with lids that seal tightly. Not only will this keep dust away from your cherished items, but it also provides an easy way to categorize different types of décor into individual boxes or bins. Keeping similar items together helps when the next season rolls around and you want to put everything back up quickly and easily. They don't have to be clear if you label the bins correctly, with the label facing outwards and quickly visible. Another storage bin trick is if you don't want to use a label on the outside, buy different colored bins per each season. For example, red and green bins can be for Christmas. Orange bins can be for Halloween or fall decorations, etc.!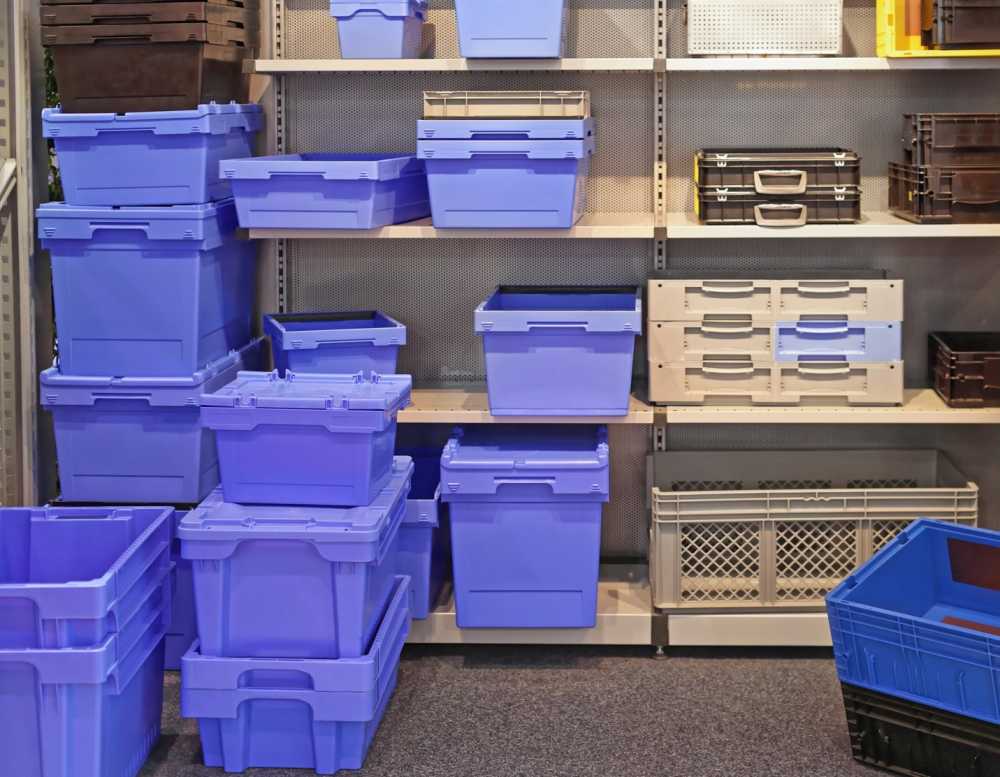 Ornament Storge Hacks
Do you ever buy non-fragile ornaments only to rip the plastic tube that it came in? Also, the packaging it comes in does not come with a sealable lid, risking all the ornaments to fall out if tipped over in storage. On the other hand, glass ornaments need to be stored properly in their own cubby containers because if they're loose in a storage bin, they will shatter! 
From Apples to Ornaments
You don't need to buy an expensive compartmentalized ornament box, but you can use plastic apple containers to hug each individual ornament. It has a perfectly sealable lid to ensure nothing moves in storage. It's a great way to reuse plastic and not just any plastic, apple containers are very sturdy to ensure apples do not get bruised in transportation. This sturdiness shouldn't be wasted by just throwing it away. Instead, store your fragile ornaments in these repurposed containers for safe keeping all year.
From eggs to safe tiny ornaments:
If you don't have an apple container, you can also use an egg carton! Egg cartons will work perfectly for smaller ornaments and will cradle them perfectly in storage to prevent shattering. You can also wrap the ornament in bubble wrap before placing it inside the egg carton for extra safekeeping.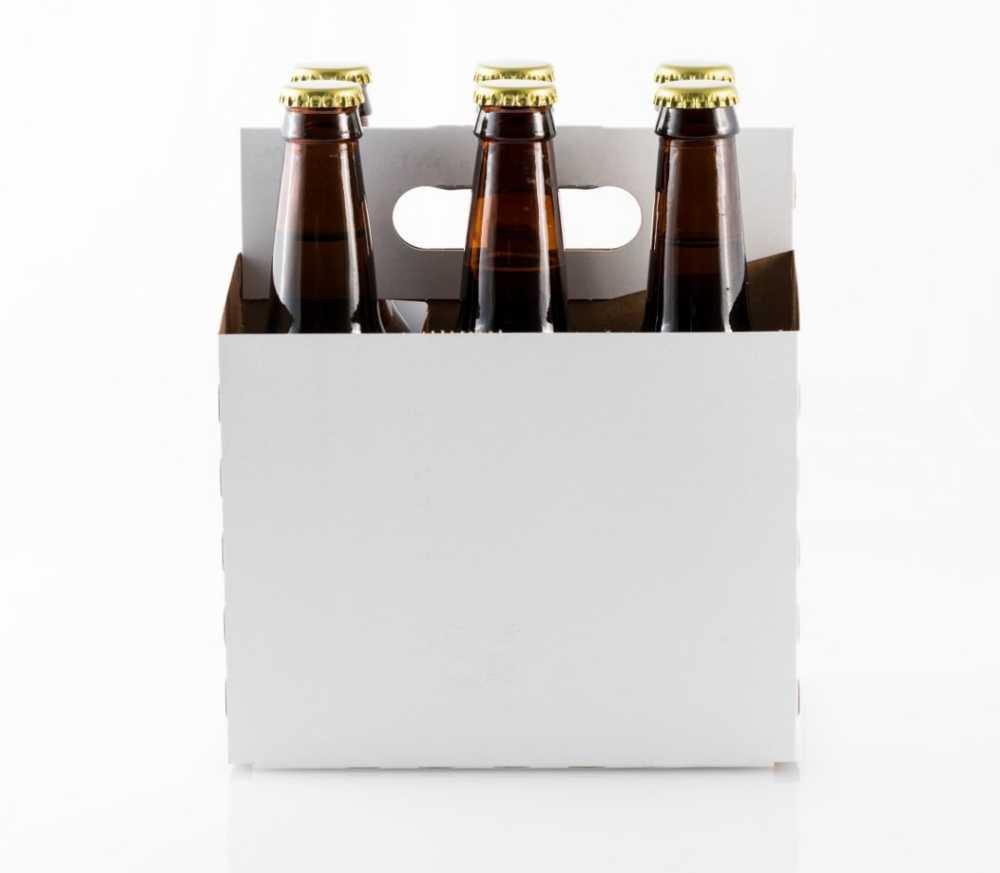 Your Starbucks drink tray has another purpose:
Any beverage or drink tray from your next coffee or fast-food run can have an additional purpose! It holds multiple drinks in place while you arrive to your destination, and it also will keep ornaments safe year-round, especially when stored in plastic bins. These unique ornament storage ideas are also handy when decorating the tree. A drink tray is meant to be held, so you can easily hold up your ornament selection while decorating the tree!
Coffee filters aren't just for coffee:
If you don't have an apple container, drink tray, or egg carton but still want a safe ornament storage hack, the coffee filters are for you! You can make your own ornament storage box by adding several thick coffee filters in a shoebox. Line them up side by side so that when you put the ornaments in each filter, it produces a nice, shatter-free ornament box.
Christmas Lights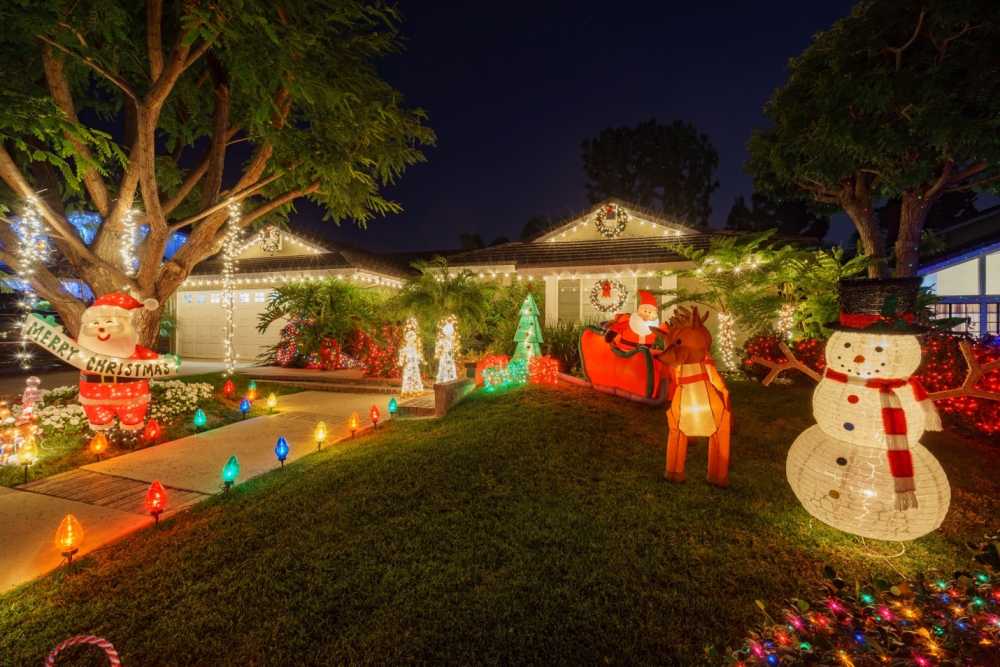 Let's be honest: when taking down Christmas lights, how many of us ball them up, throw them in a big garbage bag, and call it good? I sure am guilty of this, and you're lying to yourself if you say you've never done such a thing! There's also the wrap around the elbow and wrist trick like your dad does to an extension cord, but unless it's zip tied, the wrap will 100% come undone in the storage bag. You'll be left with a tangled mess that will take time to unravel once the next holiday season comes around. Instead of this dramatic event, cut cardboard in the size and shape of a shoebox lid and wrap the lights around that. Store the wrapped lights in one big plastic storage bin for groan-free outside decorating.
Another Christmas lights storage trip is to purchase small 6-inch traffic cones and wrap strands of lights around two of these cones in a figure-eight pattern. That way, when the next holiday season approaches, you can lift the wrapped lights straight up out of the bin, and it won't be a tangled mess!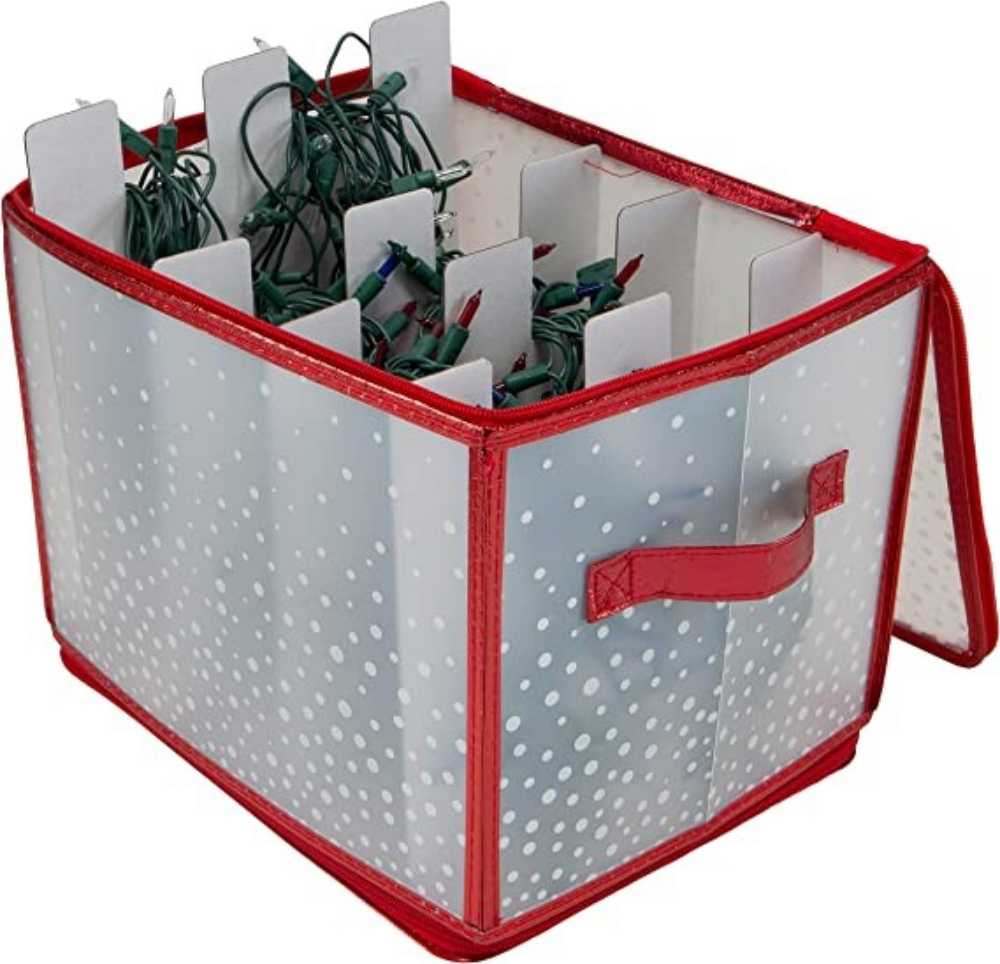 You don't have to be a DIY-er to have tangle-free Christmas light storage. You can buy a storage bin on Amazon with large cardboard spools to wrap the lights around. There are five dividers for five different light strands. It is supported with a chain in the upper and lower level for secure storage that holds up to 500 tree lights. It is very affordable and will keep your Christmas lights tangle-free and protected all year long.
Here is the link: https://www.amazon.com/Simplify-Christmas-Light-Organizer-Containers/dp/B01JZXO2BK/ref=asc_df_B01JZXO2BK/?tag=hyprod-20&linkCode=df0&hvadid=216574000717&hvpos=&hvnetw=g&hvrand=283484986899023812&hvpone=&hvptwo=&hvqmt=&hvdev=c&hvdvcmdl=&hvlocint=&hvlocphy=9030106&hvtargid=pla-356864111729&th=1
Storage Solutions
Once you gather up your perfectly (or almost) organized Christmas decorations, ornaments, and lights in plastic bins, you need to find a spot to store it all. If you don't have convenient cabinets built in your garage, you can easily install a heavy-duty ceiling rack to stash your tree and other seasonal décor. The best-selling ceiling rack from Home Depot can hold up to 600 lbs and is 96 inches wide, 42 inch high, and 32 inches deep. It's made of steel and has an adjustable height. You can free up a lot of space in your garage if you install a ceiling rack. In addition, if you utilize labeled plastic bins for your holiday storage, it will be easy to read what items are in what storage bin, even if it's up on a rack. It will even fit your Christmas tree! This is a simple and easy way to add storage if you don't have the square footage.
A Wreath, a Rack, and a Garment Bag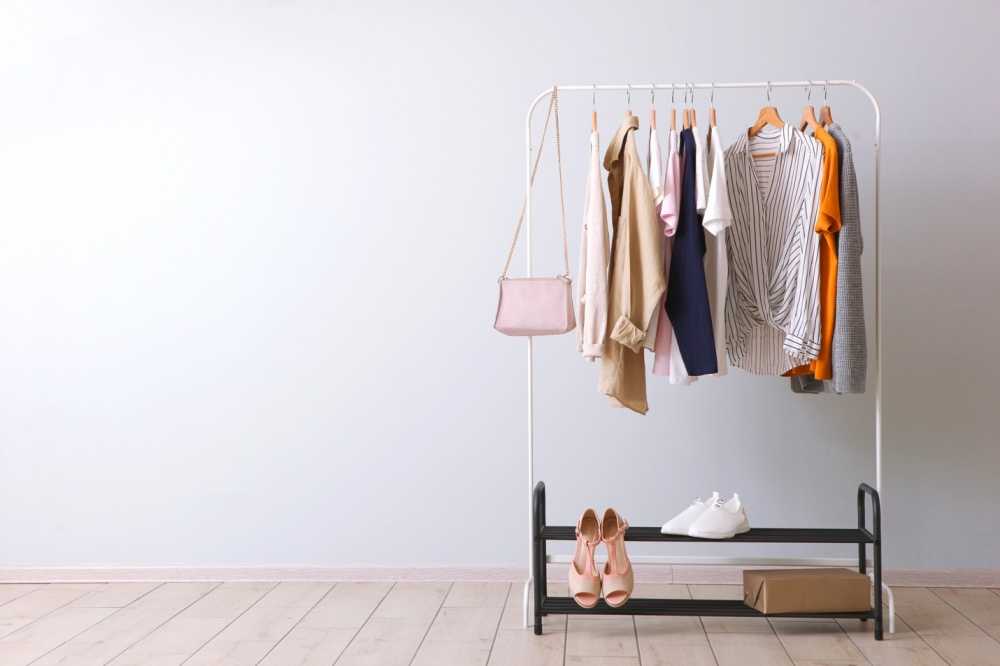 If you have many different holiday wreathes, they can be stored on a rack in an extra closet or even in your garage. It isn't suitable for the wreath to stuff it in a plastic bin because it will get smashed. Instead, place it in a large garbage bag and hang it on a coat rack. Your rack could be a simple one-pole with a stand situation or a coat rack with shelves like the photo above. You can customize these ideas to best fit your needs; it's not a one size fits all hack! If you don't have the storage for a rack, you can place wreaths flat in a garment bag. Hang the garment bag up in a closet, and it will keep all the sparkles and spruce needles intact and not all over your closet floor.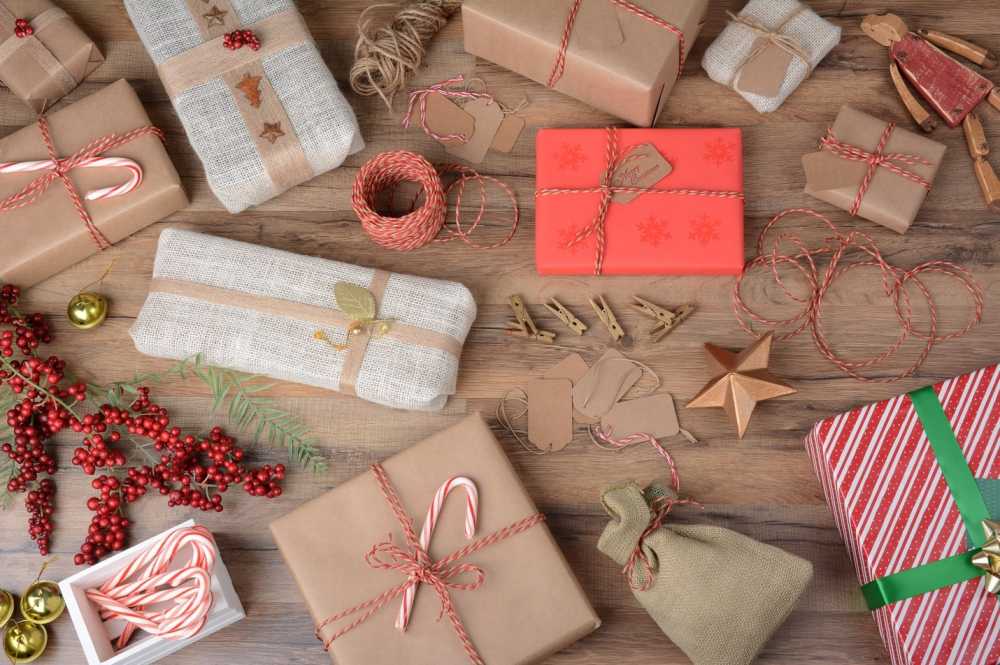 Speaking of garment bags, they can also be used to store wrapping paper tubes. The garment bag keeps them all together, dust free, and visible! Another wrapping paper storage hack is to repurpose a hanging shoe organizer. First, slice open the bottom of each pocket (except for the lowest). Second, place your wrapping paper rolls through each slot and hang! This is convenient for any season of gift-wrapping paper and makes it easily accessible year-round. For birthday parties, baby showers, bridal showers, etc., you now have easily accessible wrapping paper.
Christmas Tree Storage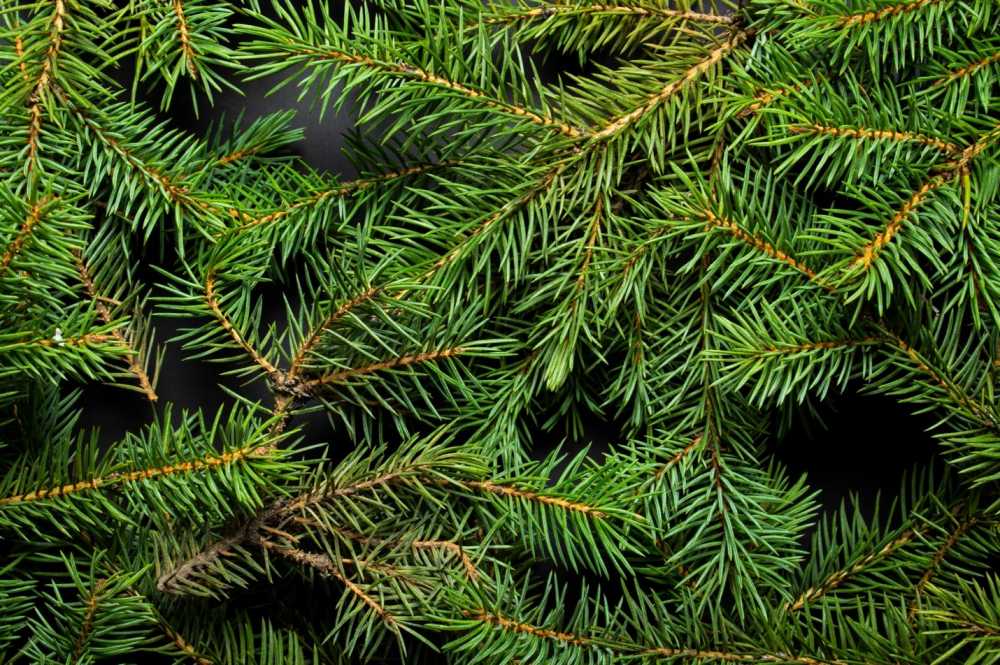 We all need to learn how to store our Christmas trees properly. This tip is for you if you use artificial trees each year. There's no need to buy a new Christmas tree each year when you can adequately store the one you have. There are several storage boxes and bags you can buy that fit. You can also store it in the box it came in, but that is not recommended for the tree's longevity. The cardboard is flimsy and will disintegrate over time. It is also susceptible to pests and mold growth. A special storage bag is made from canvas and will protect it from mold, pests, moisture, or anything else that might be found in a basement or garage attic. Before storing, you must unfluff the tree and take each section apart. Be sure to watch out for any light strands you need to unplug (pre-lit trees only). If you do not have a pre-lit tree, make sure to remove all lights before storing. You may want to take the shortcut and keep the tree lit in the storage bag, but it is not recommended! The lights on the tree, if not properly secured (like on a pre-lit one), could break, causing an inconvenient outage on just one section of the tree. This will result in changing out the entire strand or wasting your time trying to find the broken bulb.
We hope these holiday storage hacks are helpful and cause some new year cheer while putting away your Christmas decorations.