Kick off the new year by turning your garage into a sight that is pleasing to the eye, is entirely functional, and has a purpose. Whether you're a plastic bin and label maker expert or not, every bin in your garage needs a place to live. There are several types of storage systems you can buy or DIY yourself. From simple shelving to extreme cupboards and storage units, we will cover the bases of everything in between to help you decide what best suits your needs. The first step is to determine and learn what your wants and needs are. Do you want an easily accessible workstation in your garage? Do you want to store your extra things behind a shelf door? Do you want a color-coordinated floor-to-ceiling shelf of bins with labels, so you know exactly where each item is? Do you want a large unit with a workbench, shelves, and drawers that take up an entire garage wall? The great thing about any organizational project is that you can take the time to look at and think about what you need. Your unorganized things will still be there if you take an extra day to research! Check different prices, decide if you will DIY anything, plan out where the garage storage solution will go, measure, and see if it will fit, these are all great things to do while in the planning phase.
After you decide exactly what your wants and needs are, start shopping for your storage materials! Your garage has the potential of an untapped storage room waiting to happen. If every inch is not used up, now is a great time to create extra storage! Shelving and access are two top-priority items that need to be considered. If you cannot access your stored items, that defeats the purpose of a well-organized garage. If you are a big DIYer, for shelving, you will need to shop for wood, nails, stain, adhesives, etc. If you're a plastic bin king or queen, you must start shopping for those containers, lids, and the proper labels.
Now that you've gathered a few things to start off your organization adventure, let's learn about the must-have garage storage organization systems.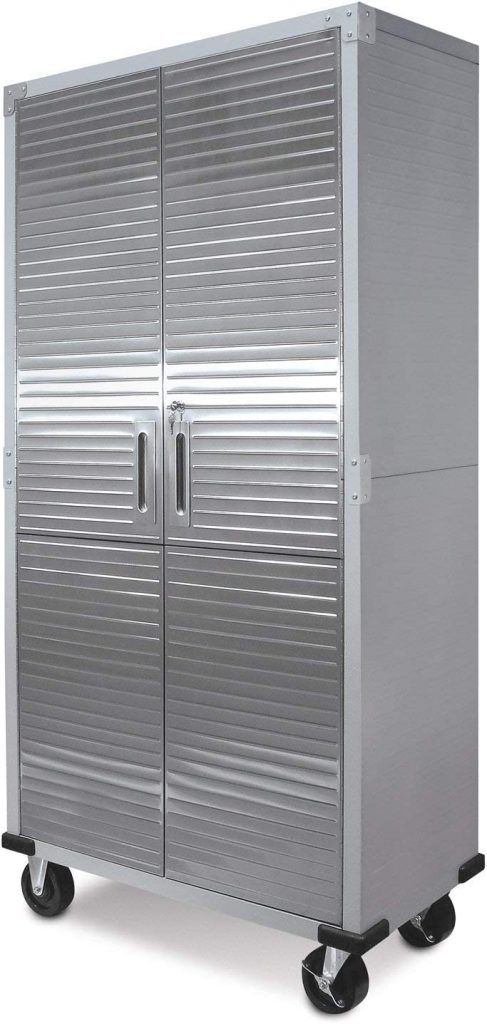 Steel Metal Storage Cabinet
This solid steel, rolling, lockable, metal storage cabinet has adjustable shelves and is perfect for any garage. There are four total shelves, with three adjustable, allowing you to customize it to fit your needs. The weight capacity is up to 600 lbs and includes a locking system. This is great for the person who cannot build shelves in their garage or install a large storage system built into the wall. For example, this is a great solution for someone renting a home and cannot install anything in their garage. This is also portable and removable, so you can take it with you when your lease it up!
Here are the links to a few other great portable storage cabinet choices: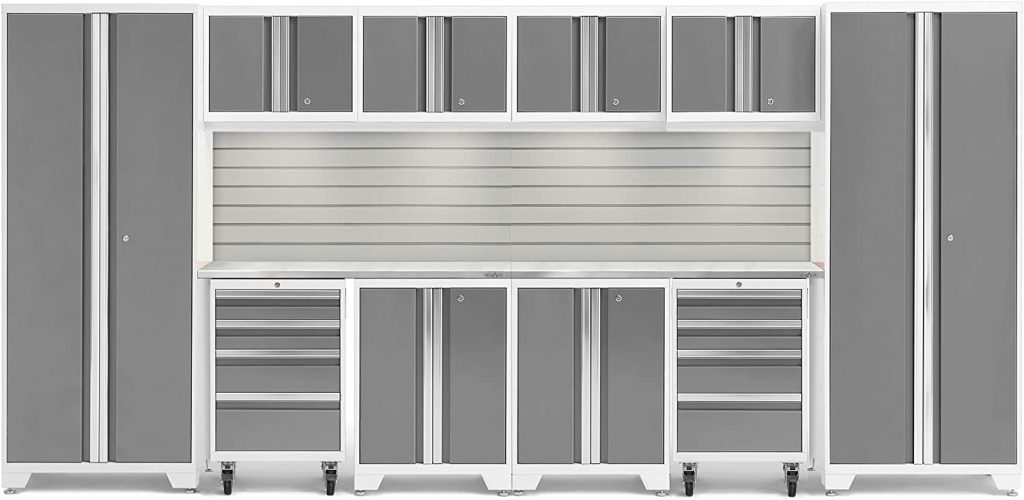 12-piece garage cabinet set
This is from the brand NewAge Products and is an excellent investment for the homeowner. It includes a Slatwall backsplash to hang tools, multi-use lockers, wall cabinets, rolling tool cabinets, a base cabinet, height-adjustable steel shelves, steel frames and doors, and finally, a power-coat paint finish! In addition, the doors are fully lockable and have full-length aluminum handles. This is a one-stop shop for the homeowner looking to invest in their home and their organization needs.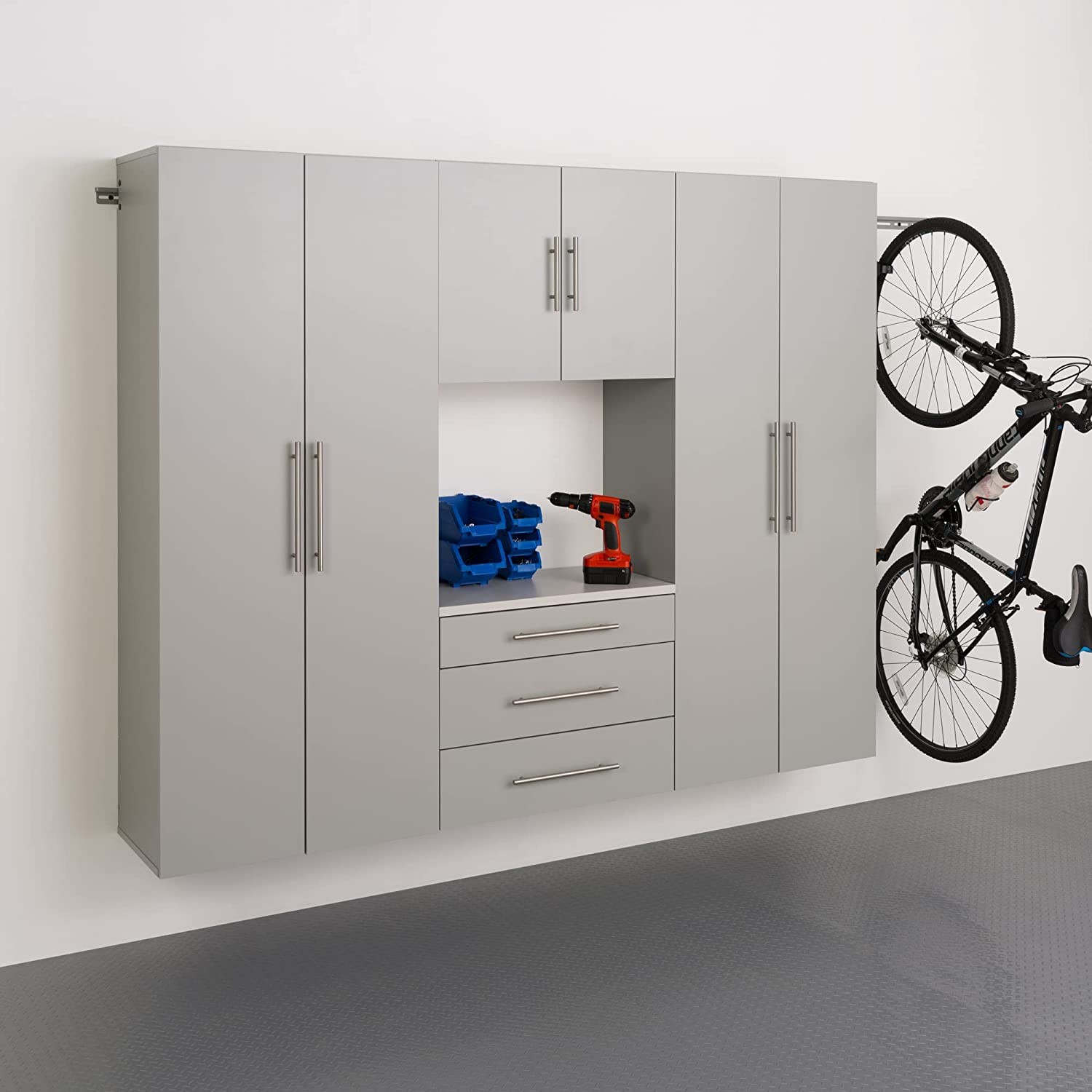 HangUps Storage Cabinet
This storage cabinet system is like the one above but on a smaller scale. If you are not looking to invest thousands of dollars in your new garage storage but still want the same type of solution, this one may be right for you. It includes one 30-inch upper storage cabinet, one 3-drawer base cabinet, and two 30-inch large storage cabinets on each side. It is 47 cubic feet and requires installing it on your garage wall. It is not an extreme solution like the previous one, but it definitely provides extra drawers and cabinet space for your items. You can also choose between a 2-, 3-, 4-, and 6-piece set, each with different layouts. These options make it easy to customize with a friendly budget.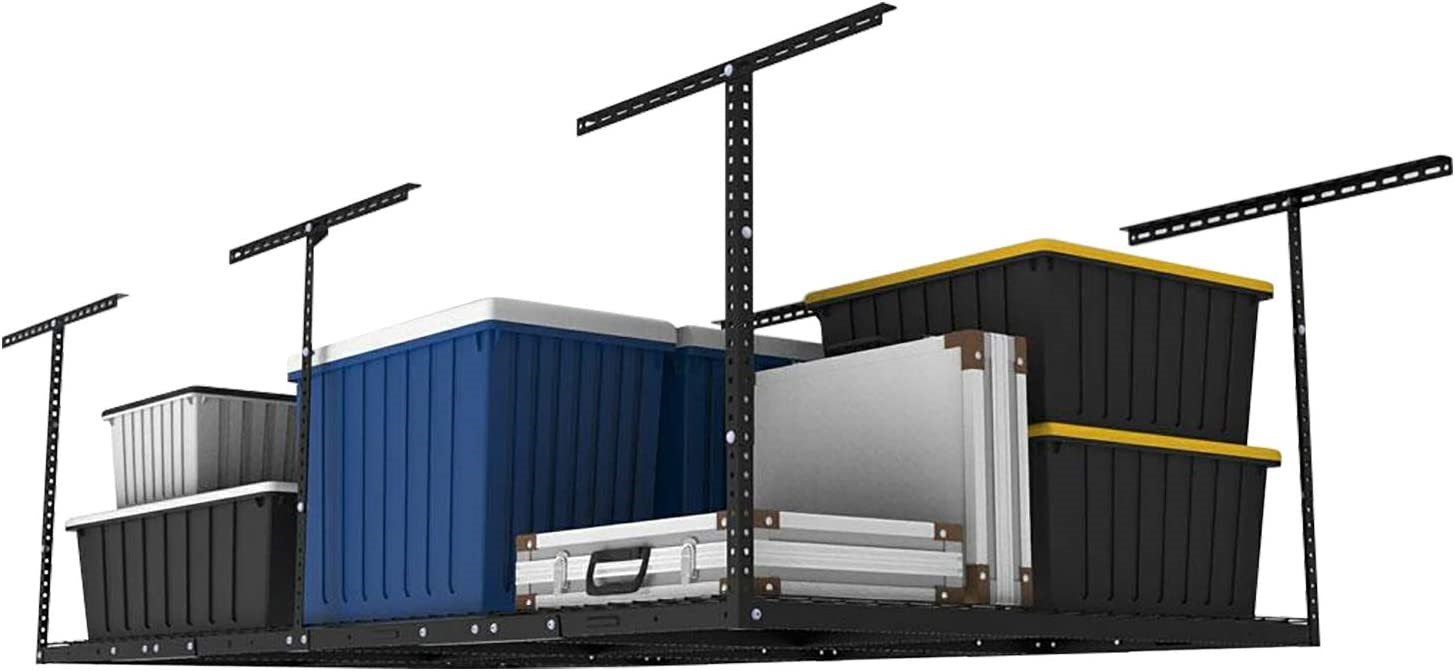 Overhead storage
Overhead garage storage is extremely practical, increases floor space, and provides more room for your vehicles. The Fleximount adjustable overhead garage storage rack is a heavy-duty metal shelf attached to your garage's ceiling. It holds up to 600 lbs and protects your items from potential water damage. In addition, it is simple to install into wood studs/joists and concrete walls. When paired with heavy-duty storage containers, you can create an affordable and productive storage space using empty air space!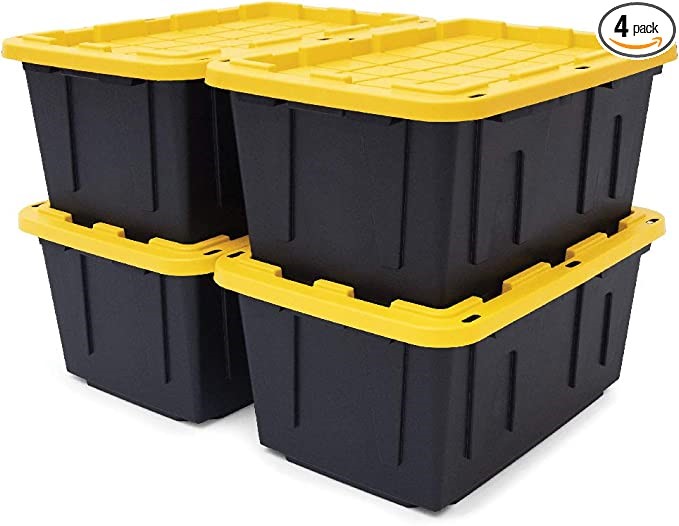 These bins are 27 gallons and come in a four-pack. They are stackable with a weather-resistant secure snap lid. You can store heavy, bulky items like camping and hunting equipment or lightweight, fragile Christmas decorations. They will fit perfectly on an overhead rack, and their handles make it easy to move up and down from your storage solution.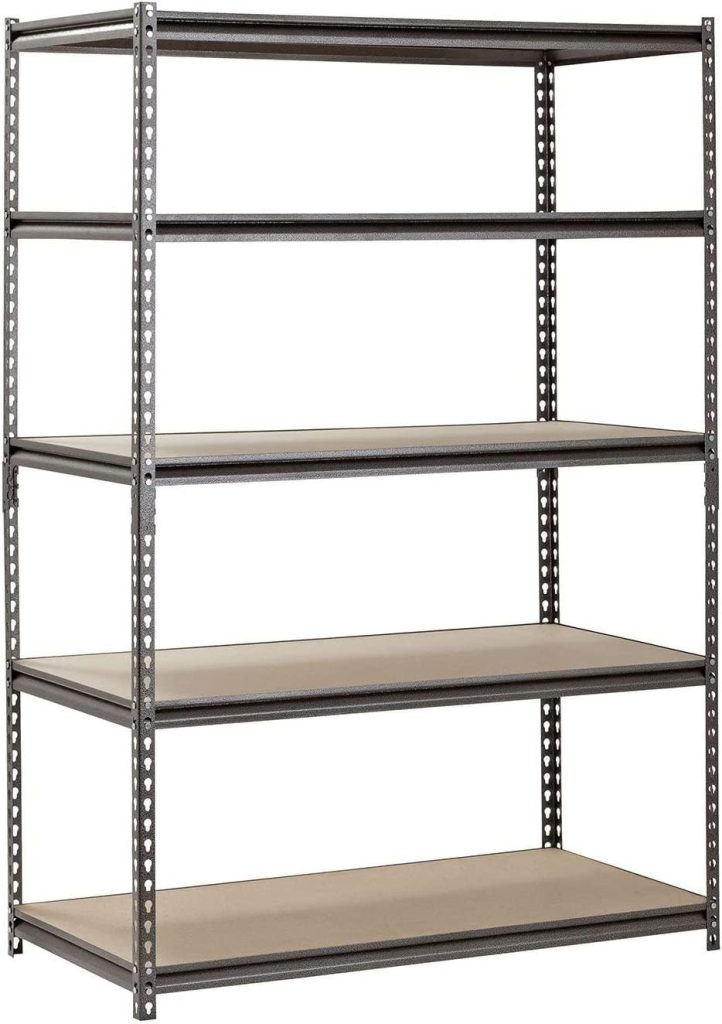 Photo from EDSAL Amazon Shop
Budget-friendly shelving unit
These $69 ($85 not on sale) heavy-duty shelving unit will create the extra storage you need but on a budget. It measures 48"W x 24″D x 72″H, and each shelf can be adjusted in 1.5-inch increments to accommodate various size items. Its shelf base is made of particle board decking and is supported with double-riveted metal beams and braces. The assembly is simple, requiring no nuts, bolts, or screws. We personally just bought and assembled this shelving unit in our own garage, and it was effortless to put together. It is sturdy, made of excellent quality items, and you can hold a lot of sturdy organizer bins on its shelves. We also added stackable under the sink, sliding basket organizer drawers on the shelf to hold smaller items like command hooks and plant hangers. Living in a rental home, it is important that we create temporary solutions that we can take with us when we buy a home in the future. Therefore, a large, fancy garage storage solution is not always the best choice. This is why it's essential to make a plan and not rush the process.
Here is the link to the under-the-sink organizer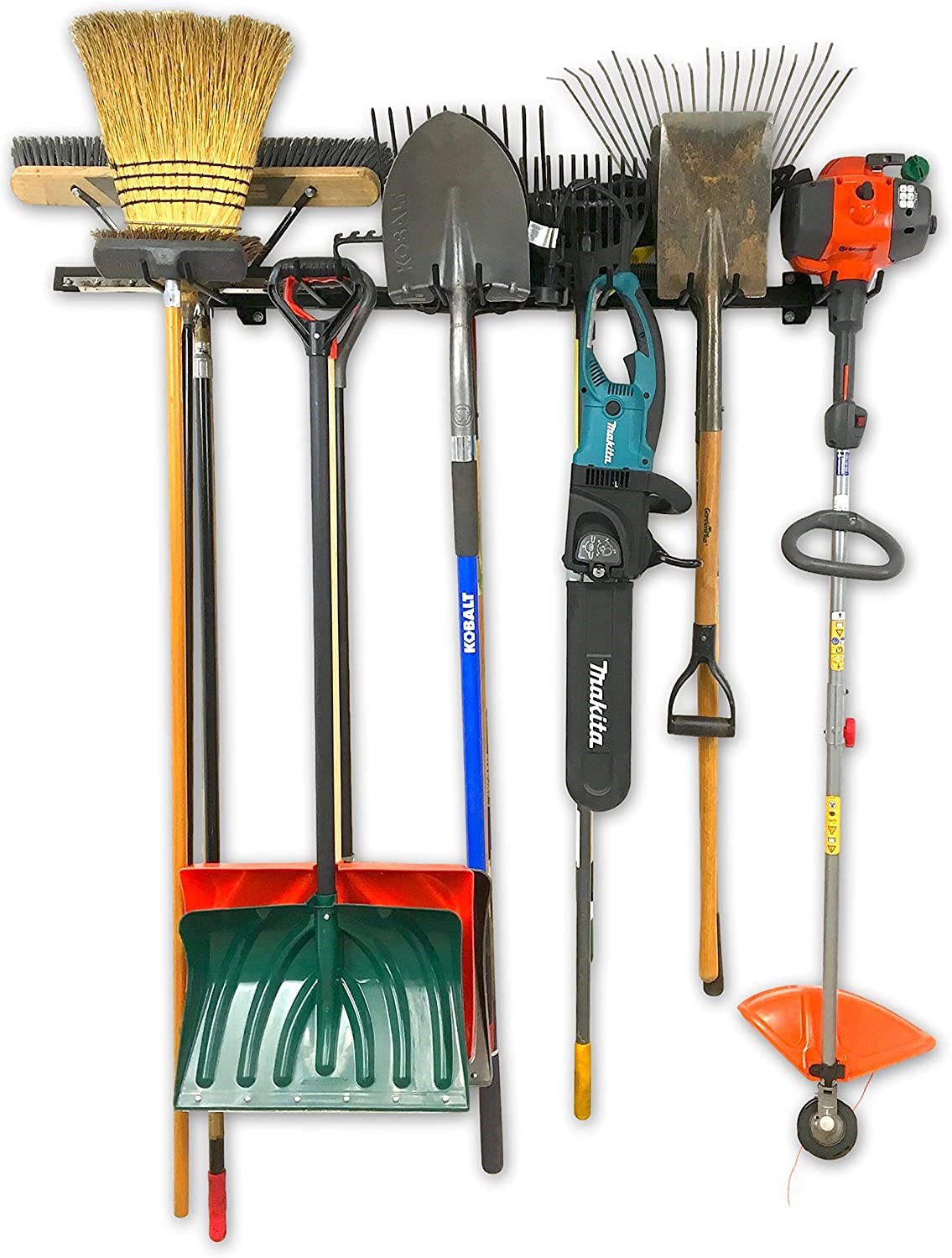 Tool Storage Racks
A tool storage rack is the way to go if you already have an extensive garage storage system for the bulk of your items but are looking to organize odds and ends in your garage. The Omni Tool Storage Rack is a steel, adjustable, wall mount, took organizer that holds everything from a broom to a ladder. It supports up to 300 lbs and includes four large and two small attachments. Here are some tools you can hang on this storage rack: broom, shovels, rake, lawn trimmer, ladder, leaf blower, garden hoses, extension cords, snow shovels, etc.!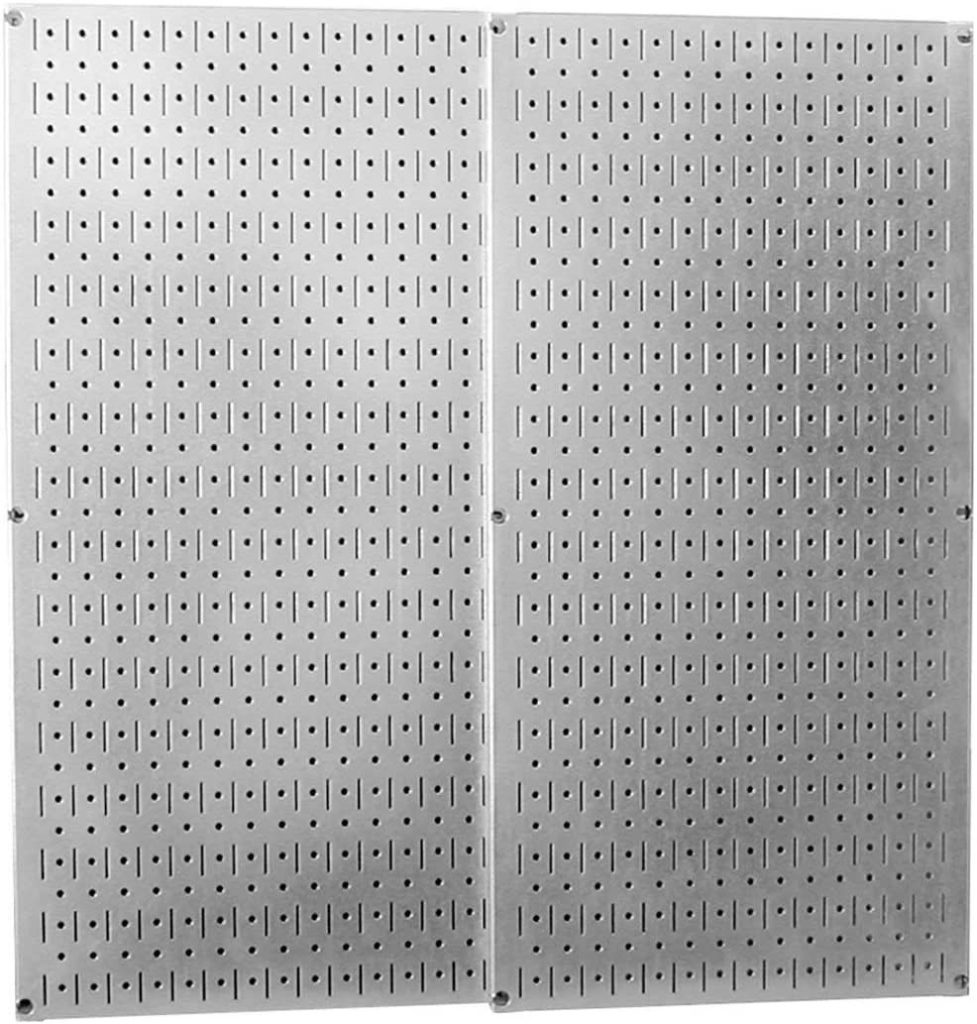 Pegboard and Tool Organizers
If you have wall space above a work bench or just an empty wall, you can turn it into a perfectly organized tool workshop. Start with the correctly sized pegboard and find accessories, hooks, shelves, containers, etc., that will be useful for you.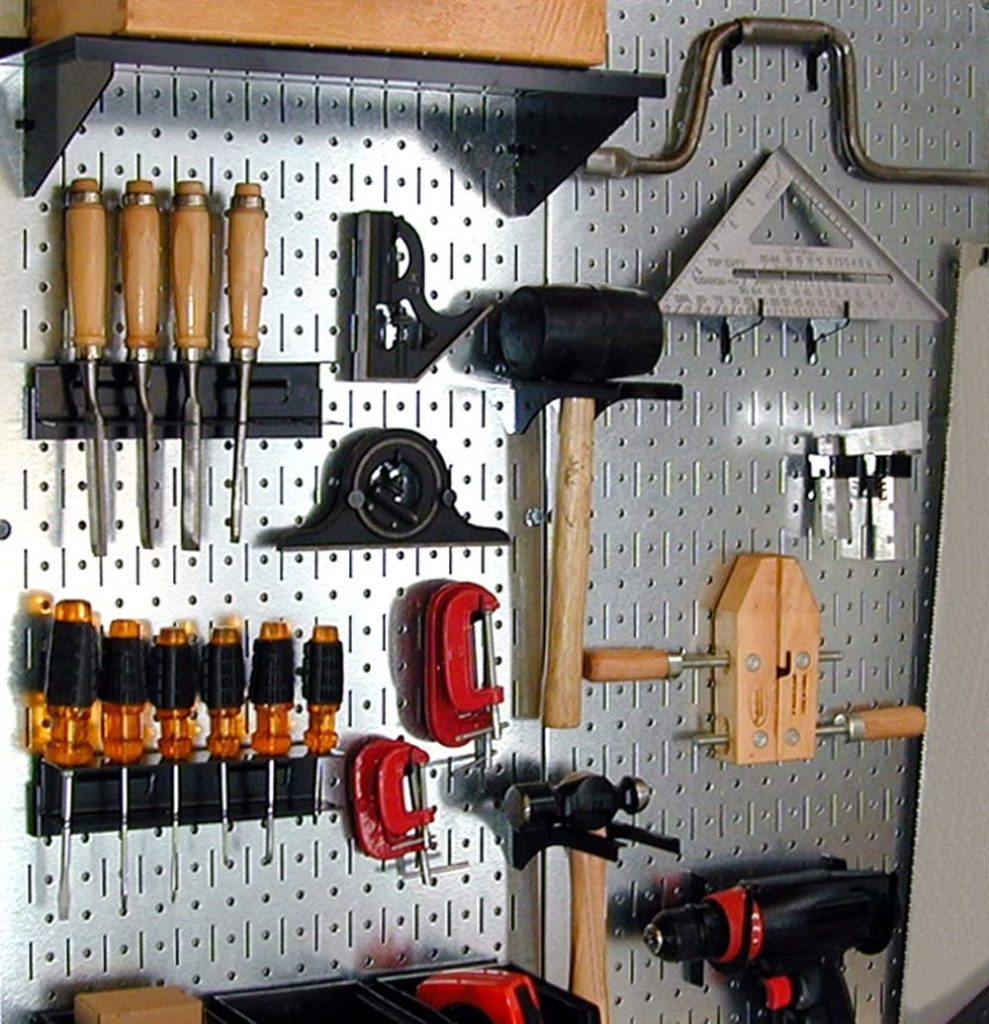 You can purchase this pegboard with or without the accessories, but we recommend buying accessories and hooks from the same brand as your pegboard. One size does not fit all when it comes to accessories for pegboards. For example, you cannot buy regular pegboard accessories from Home Depot for a craft pegboard from Ikea because the holes are different sizes.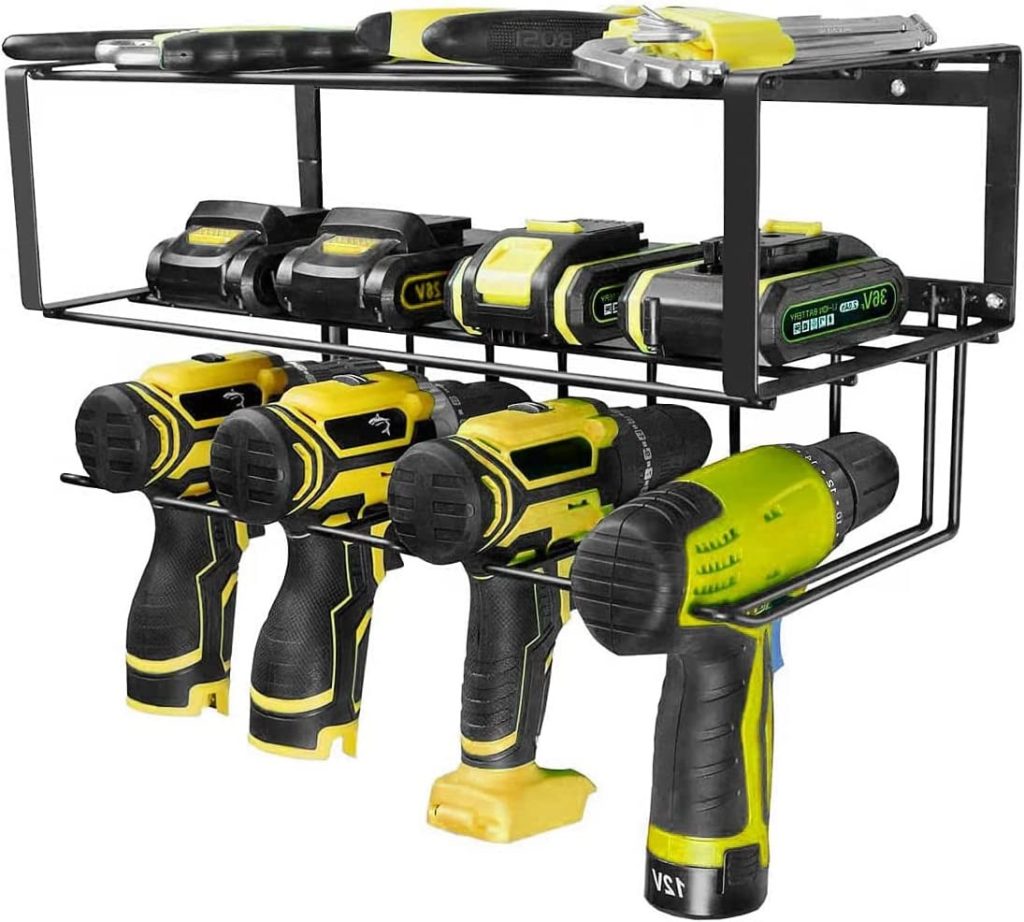 Power Tool Organizer
There's nothing worse than not knowing exactly where your power tools, battery packs, drill bits, and accessories are! This power tool organizer is an affordable way to keep all these tools together. It is a metal wall mount with three layers of storage racks. It can hold up to 120 lbs, and the bottom rack can be connected or disconnected from the top portion, making it completely customizable. This is a helpful organization unit when you don't have a lot of space for a pegboard or work bench. It also would be an excellent gift for any power tool users!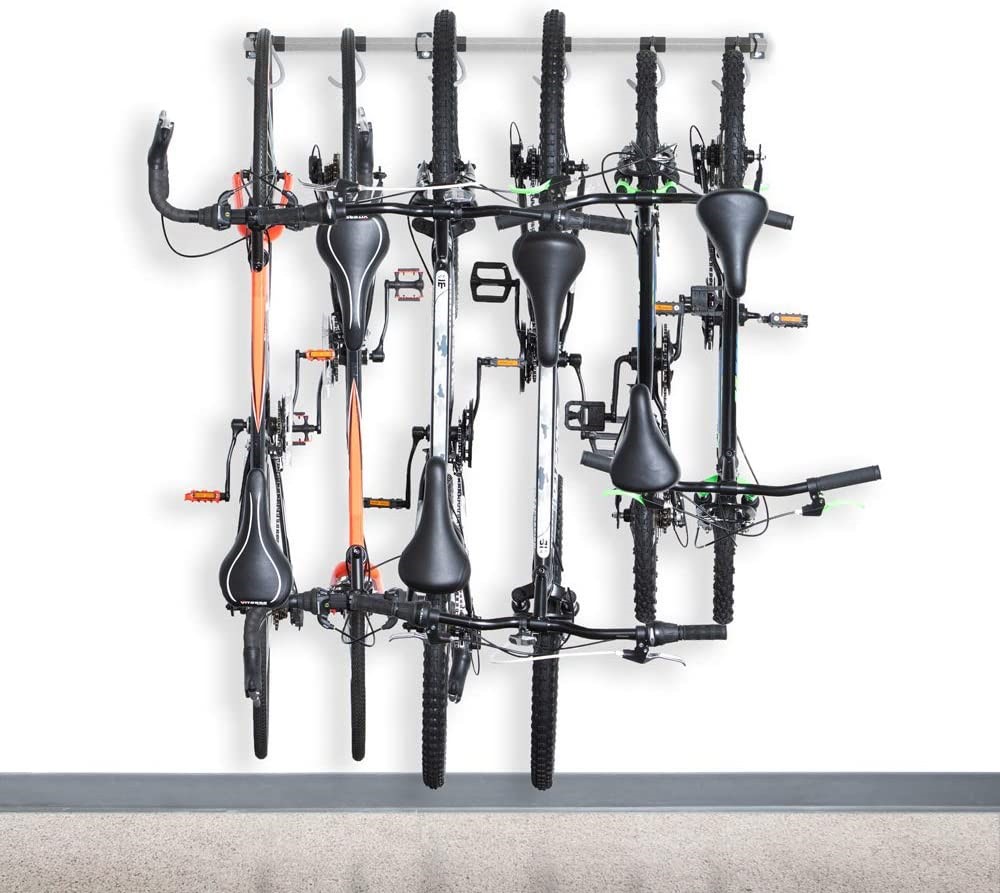 Bike Storage Rack
Another simple storage solution is a bike storage rack. You don't need to take up space next to your vehicle to store your bike. You can keep it on the wall! This storage rack from Monkey Bars has one, three, four, and six bike hook options and only takes up to four feet on your wall. It has hooks that adjust side to side but never disconnect from the bar, making bike storage and use a breeze. The hook is placed on the rims and spokes of the bike tire for damage-free storage. The hardware is included and can hold up to 300 lbs when you use the optional third bracket. This is another simple, affordable storage hack to get your bikes off the garage floor and use up empty wall space.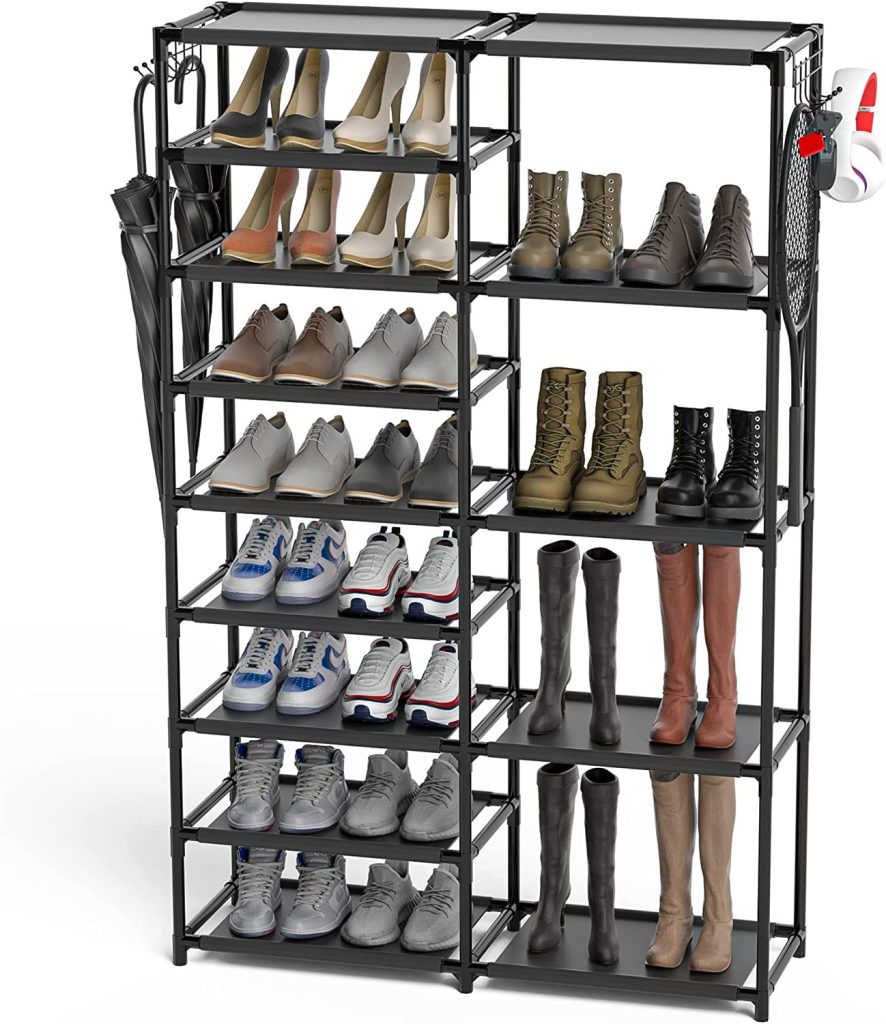 Shoe Rack
Don't let a pile of shoes in front of the garage door cause you to trip up! Here is a $32 solution. This tall shoe rack is specific for the garage and holds up to 35 pairs of shoes. It has nine tiers and different heights, making it possible to store all kinds and sizes of different shoes. It's crafted from thickened metal tubes and is waterproof, durable, and easy to clean. A shoe rack in the garage will also free up space in your indoor closets. Another benefit is it keeps your home clean and tidy because you remove your shoes in the garage before entering your home. When you come home, simply remove your shoes, pick them up, and place them back on the shoe rack! This is an excellent task you can teach your little kids too!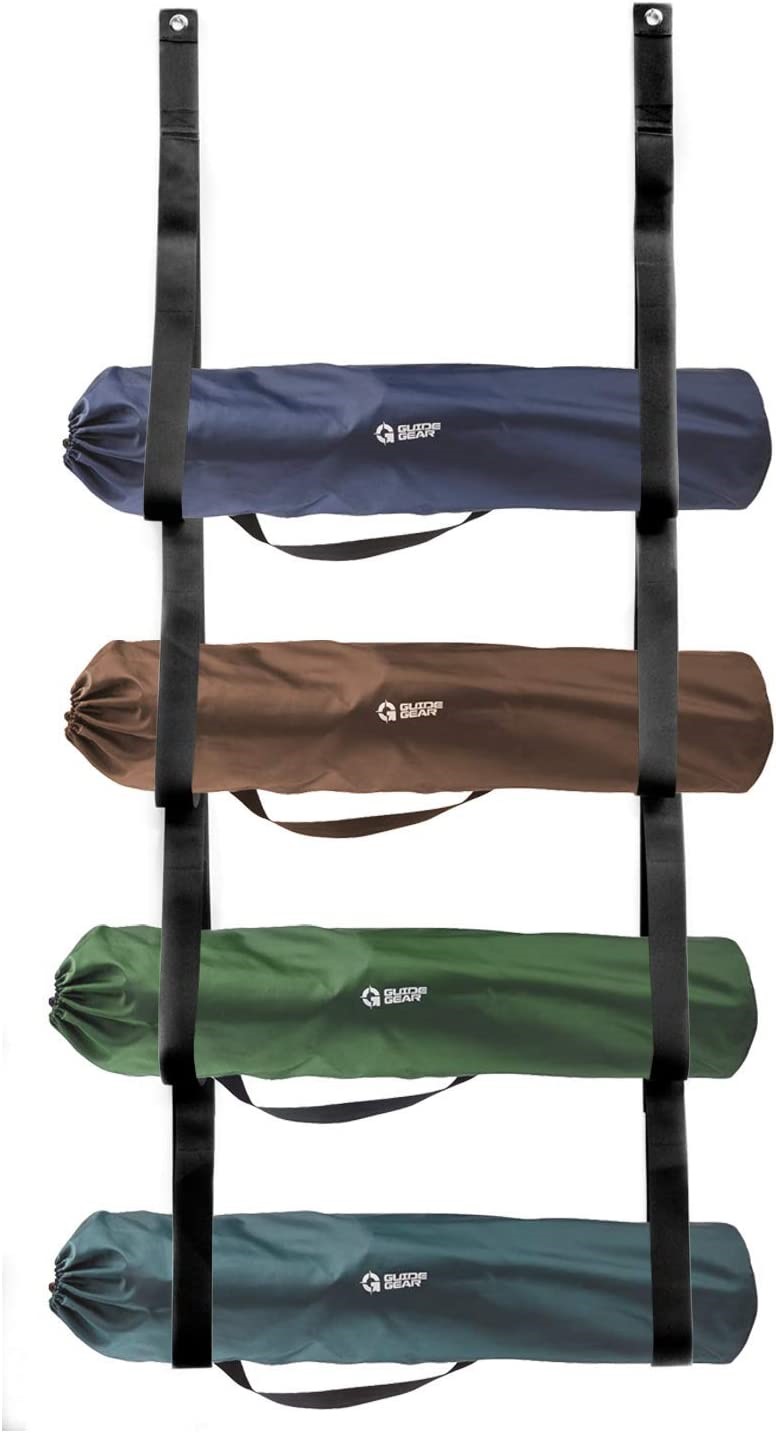 Camping Chair Wall Storage
As you can see from the photo, this is an ingenious way to store multiple camping folding chairs vertically. Even though it does not take up much wall space, this is a simple solution to free up a lot of floor space. It's made from nylon and supports up to 50 lbs. In the organizer, you can also store other items like beach umbrellas, poles, piping, or other long items. In addition, it includes adjustable Velcro loops for different-sized items, making it possible for other specific things you're looking to store!
From an extreme garage makeover to a simple chair organizer, we've got you covered to enter the new year with a fully organized garage. It doesn't take much work to reorganize, but it does take proper planning! The right tools are essential when it comes to keeping your garage organized and clutter-free. With the right shelves, racks, tool organizers, and hooks for unique items, organizing your garage can be an easy task. Installing shelves or wall-mounted racks will help you maximize storage space in the garage by providing extra room for bulky items like suitcases or large bins of sports equipment. Utilizing hanging tool organizers and hooks is also a great way to keep things off the floor and ensure that smaller items, such as garden tools, stay organized and easily accessible when needed. In addition to these organizational options, it's essential to utilize plastic bins with lids for any items that are sensitive to moisture or dust buildup from being exposed on open shelves. Plastic bins with lids come in various sizes, so there is sure to be an option that fits your organizational needs. Many of these containers are even stackable, allowing you to fully use vertical space while maximizing floor area. Plus, they're perfect for storing items such as Christmas decorations, sports equipment, and camping gear – anything that needs a little extra protection from humidity or dirt buildup. We hope these tips and tricks allow you to have a happy, organized garage and a new year!